Your trip
Tuscany awaits you with one of the most impressive landscapes in Europe, thanks to its hills with picturesque vineyards, olive slopes and cypress avenues.
While cycling you will enjoy diverse views and admire Renaissance art and architecture. Tuscany is also the land of numerous artists, such as Leonardo da Vinci or Giacomo Puccini. Cities like Pisa or Florence need no further presentation, but you will also discover beautiful castles and villages where you can taste Tuscan cuisine.
Please note: Compared to most of our other tours, this one goes more through cultural than natural landscapes. The Pisa – Florence region is beautiful, highly praised and immensely interesting. However, it is also relatively densely built-up. Are you looking for history and culture in free nature – you are exactly right here. Are you looking for rest and relaxation? Maybe take a look at our trip from Venice along the Adriatic?
Accommodation
Hotels
For this bike tour we offer 2 different hotel categories, from which you can choose when booking:
> Category A ("Comfort"): mostly 4**** hotels with some 3*** hotels
> Category B ("Standard"): 3*** hotels with a family run 2** hotel in Lucca.
All rooms have shower / WC and are also equipped with air conditioning.
When booking the trip we offer different types of rooms:
> A double room is a room with a double bed
> A 2-bed room is a room with two separate beds
> A 3-bed room is usually a room with a double bed and a bed/sofa bed
The route
> Easy cycling on mostly flat terrain, with only a few short climbs.
> In 6 stages you will cover 225 to 280 km. Depending on the route chosen. Elevation profile uphill: 950 / 1.190 m
> They mostly ride on paved roads, sometimes (about 12%) on dirt roads. On day 2, 3, 5 and 7 there is a possibility to shorten the cycling stages by train. Every day there are train connections between the overnight places.
The trip is not suitable for persons with reduced mobility. Please contact us for detailed information if needed.
Please note: For organizational reasons, due to weather conditions or according to regulations of local authorities, some changes in the tour itinerary could occur before or during the vacation. Along the route, for example, you might find detours due to construction work that we cannot foresee. Please follow the instructions on site.
Bicycles
Rental bikes: If you want to rent a bike from us, you will get a very good unisex city bike with Deore Shimano 27 speed derailleur. Also available as a men's bike.
Electric bikes (pedelecs): You can also rent an electric bike for this trip. These are equipped with 9-speed gears and assistance up to 25km/h. Performance: approx. 90 km (depending on driving style)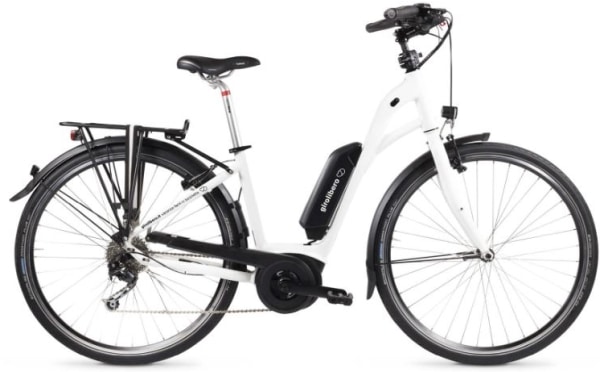 All bikes are equipped with mudguards, puncture-proof tires, single-sided waterproof pannier, handlebar bag (1 x per room), bike computer, repair kit (1 x per room) and bike lock.
The bikes of sizes S – XL and the corresponding equipment such as repair kit, air pump, spare tube, bike lock, saddle bag, handlebar bag, bike computer are ready for you at the arrival hotel. At the end of your bike tour, simply drop off the rental bike at the last hotel. Return transportation is provided. Models may vary depending on region and availability.
Please indicate your age and height when booking!
Own bikes
It is possible to bring your own bikes, but at your own risk. For possible damages etc. on the own bike during the whole bike trip as well as during transport trips can not be liable.
Bitte beachten Sie: In Italien besteht keine Helmpflicht. However, we recommend that you always wear a bicycle helmet on all bicycle tours. You are also welcome to rent it for the duration of the trip.
Arrival
by train:
Pisa is easily accessible by train. Information about the timetables can also be obtained from the travel information of the German railroad.
by plane:
> (Galileo Galilei) is accessible from Germany with several airlines.
> From the airport you can quickly get to the city center by cab, bus or train.
Country information
Please note our information on entering Austria and Italy under our country information. Please also see our notes on package tours.