Your trip
Three countries in one week: this trip invites you to a spectacular experience of Mediterranean port cities along beautiful coasts of the Adriatic Sea – through Italy, Slovenia and Croatia.
You cycle between the sea and the southern foothills of the Julian Alps, from the famous city of Venice through the Friulan plain with its medieval towns. Finally, you will approach the proud port city of Trieste. Up to here, your path is mostly flat. You continue to follow the coast of Istria south, now through slightly hilly terrain. A real pearl!
The return from Porec to Venice is possible by boat or by bus.
Accommodation
You can choose between two hotel categories on this bike tour:
Category B : 3*** Hotels
Category A : Mostly 4**** hotels with some 3*** hotels – please select "Comfort" when booking.
All rooms have shower and toilet. In the category A hotels, the rooms are equipped with air conditioning. In the hotels of category B, the air conditioning can sometimes be absent. When booking the trip we offer different types of rooms:
A double room is a room with a double bed.
A 2-bed room is a room with two separate beds.
A 3-bed or multi-bed room is usually a room with a double bed and an extra bed or sofa bed.
Note: On this tour, rich in popular excursion sites and seaside resorts, we cooperate with several hotels. This may affect the length of the stage on some days, as well as change the stage finish. In any case, the route description will give you detailed information about all the routes. If a route is shorter one day, then the next one is correspondingly longer the day after. In total you cycle the same route.
The route
The first 3 days are mostly flat through the Venetian and Friulian plains. The last 3 stages are a bit hillier.
You will cycle about 300 – 350 km in 6 stages.
Most of the route is on paved roads, with just under 10% on dirt roads.
You'll be riding uphill for just under 1,400 meters of elevation gain over the entire route.
There are no direct train connections between the overnight destinations.
You can, however, select the stages on the 4. and 5. day shorten by train or boat.
Unfortunately, the trip is not suitable for people with reduced mobility.
Please note: For organizational reasons, due to weather conditions or according to regulations of local authorities, some changes in the tour itinerary could occur before or during the vacation. Along the route, for example, you might find detours due to construction work that we cannot foresee. Please follow the instructions on site.
Bicycles
Touring / trekking bike ladies, men: If you want to rent a bike from us, you get a very good unisex touring bike optionally with Shimano Deore / Alivio 27-speed derailleur and freewheel or 7-speed Shimano Nexus gears with coaster and Royal saddle. Also available as a men's bike.
E-bikes: You can also rent an electric bike for this trip. These are equipped with 9-speed gears and assistance up to 25km/h. Performance: approx. 90 km (depending on driving style).
The bikes of sizes S – XL and the corresponding equipment such as repair kit, air pump, spare tube, bike lock, saddle bag, handlebar bag, bike computer are ready for you at the arrival hotel. At the end of your bike tour, simply drop off the rental bike at the last hotel. Return transportation is provided. Models may vary depending on region and availability.
Please indicate your age and height when booking!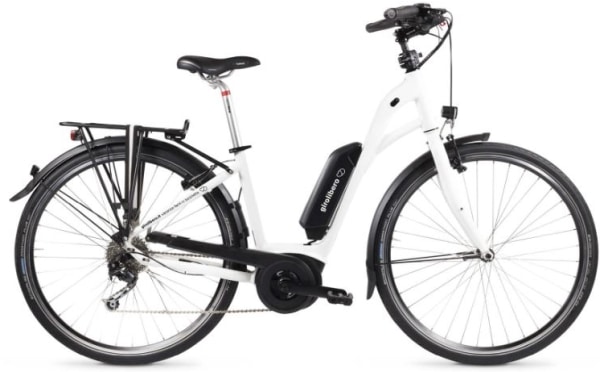 Own bikes
It is possible to bring your own bikes, but at your own risk.
For possible damages etc. on the own bike during the whole bike trip as well as during transport trips can not be liable.
In Italy, helmets are not compulsory. However, we recommend that you always wear a bicycle helmet on all bicycle tours. You are also welcome to rent it for the duration of the trip.
Arrival
by train:
Mestre and Venice are very easy to reach by train. Further information is also available from the Deutsche Bahn travel information service or from TrenItalia.
by car:
Drive to Venice mainland / Mestre. Depending on the hotel, you can park either in a hotel parking lot or garage at a price of approximately € 30.00 to € 50.00 per week. Please pay directly on site. Reservation is neither possible nor necessary.
by plane:
Venice Airport (VCE) can be reached from Germany by several airlines. From the airport you can get to Mestre by bus, for example.
Mestre is also well connected with the airports of Treviso (TSF), Verona (VRN) and Trieste (TRS).
Return transfer from Porec to Venice
The return transfer from Porec-Venice is provided by boat and is possible every Saturday and Sunday. The beautiful crossing takes about 4 hours. Please be on time at the quay, embarkation between 07:00 and 08:00. Please refer to your travel documents for details and any updates!
Please book for the return transfer "Transfer Person" (from about € 90 per person). If you bring your own bike, please book additionally "Transfer bike" (about € 30 for your own bike). A reservation for the return trip with name, ID number, nationality and date of birth is absolutely necessary already when booking the trip!
Please note: Your ID must be valid for at least 90 days after your departure date from Croatia.
If for any reason (technical problems, organizational problems of the operator, …) the liner does not sail, a transfer by bus will be organized. The booked ship ticket can not be refunded.
We point out that the return trip from the port in Venice to the starting hotel with your own wheels is difficult. Transfer possibility from the port in Venice to the starting hotel: there are several public cabs available, price about 45,00 – 55,00 €. The transfer can be booked at the information meeting before the tour. Payable directly to the driver at the port in Venice Terminal San Basilio.
We offer this trip in two largely identical variants. You will therefore find further dates under the travel offer 12.
Unforgettable
The crossing to Venice by bike over the Ponte della Libertà
Venice, St. Mark's Square with the vaporetto
The ancient Roman cosmopolitan city of Aquileja
The port city of Trieste
The white castle to Miramare near Trieste
A detour to the Rosandra Valley, Val Rosandra near Trieste
The port city of Porec, your destination