Your trip
An extraordinary tour from the Alps of South Tyrol to the sea of Venice
Surrounded by the unique spectacle of the Dolomites, you cycle along the Adige Valley, crossroads of peoples and cultures. and cultures.
In a very relaxed atmosphere you will cross Lake Garda and then reach the romantic Verona, the city of Romeo and Juliet. In Vicenza you cycle in the footsteps of the Reniassance architect Andrea Palladio, before continuing to the thermal baths in the Euganean Hills.
The university city of Padua, cradle of the arts, will show you the way towards the lagoon city, where the immortal beauty of Venice is waiting to enchant you.
Character of the bike tours
> This tour is easy to drive. There are few hilly sections with short climbs. You drive always on low-traffic secondary roads or bike paths, which are mostly well paved.
> In 6 stages you will cover a total of about 300 to 360 km on the bike. Some routes can be shortened by train: You can travel part of the way by train on days 2, 3, 5 and 7.
Please note: The trip is not suitable for persons with reduced mobility. not suitable. Please contact us if you need for detailed information.
Accommodation
You can choose between two hotel categories for this bike tour:
> Category A "Comfort": mostly 4**** hotels with some 3*** hotels
> Category B "Standard": mostly 3*** hotels.
All rooms have shower/WC. In most hotels, the rooms are equipped with air conditioning, even though in some smaller hotels and hotels in the mountain resorts of northern Italy the air conditioning may sometimes be missing.
When booking the tour we offer different types of rooms:
> A double room is a room with a double bed
> A 2-bed room is a room with two separate beds
> A 3-bed room is usually a room with a double bed and a bed/sofa bed.
If you choose the 3-bed room with extra bed for a third person, then please book double room for two persons and "multi-bed room" for the third person.
Bicycles
Rental bikes: If you want to rent a bike from us, you will get a very good unisex city bike with Deore Shimano 27 speed derailleur. Also available as a men's bike.
Electric bikes (pedelecs): You can also rent an electric bike for this trip. These are equipped with 9-speed gears and assistance up to 25km/h. Performance: approx. 90 km (depending on driving style)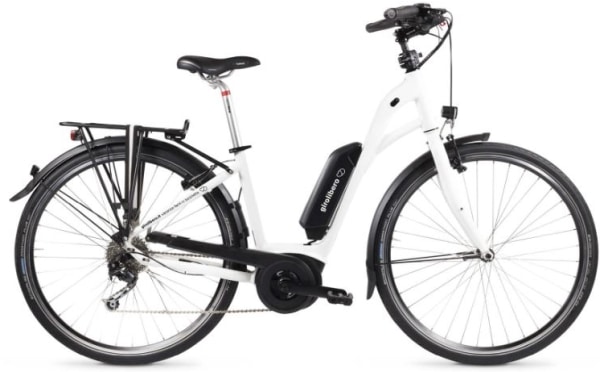 All bikes are equipped with mudguards, puncture-proof tires, single-sided waterproof pannier, handlebar bag (1 x per room), bike computer, repair kit (1 x per room) and bike lock.
The bikes of sizes S – XL and the corresponding equipment such as repair kit, air pump, spare tube, bike lock, saddle bag, handlebar bag, bike computer are ready for you at the arrival hotel. At the end of your bike tour, simply drop off the rental bike at the last hotel. Return transportation is provided. Models may vary depending on region and availability.
Please indicate your age and height when booking!
Own bikes
It is possible to bring your own bikes, but at your own risk. For possible damages etc. on the own bike during the whole bike trip as well as during transport trips can not be liable.
Bitte beachten Sie: In Italien besteht keine Helmpflicht. However, we recommend that you always wear a bicycle helmet on all bicycle tours. You are also welcome to rent it for the duration of the trip.
Arrival
by train:
Bolzano is easily accessible by train. Information about the timetables can also be obtained from the travel information of the German railroad or also or TrenItalia.
Return transfer from Venice / Mestre
By bus from Mestre
> Every Saturday and Sunday,
> From 31.05. until 13.09.2022 also Tuesday.
Availability is limited. Please book the transfer at the same time. The transfer will pick you up from the hotel in Mestre (not from Venice) and take you directly back to Bolzano. We recommend the transfer especially if you take your own bicycles.
By train
There are good train connections from Mestre back to Bolzano. Please change trains in Verona. You can also get information about train connections at TrenItalia. Take your own wheels with you, However, we do not recommend the return journey by train.
Country information and tips on package tours
Information on entry requirements to Austria and Italy can be found on our page under country information. Please read our notes on package tours on the ARB page.