Your trip
The Loire Valley, the "Garden of France", invites you to dance.
Let yourself be enchanted by more than two hundred magnificent castles, the tram-like gardens, lush vineyards and the beautiful natural areas. You will cycle into a fairy tale, through picturesque landscapes with dreamy residences that are certainly worth a stop. In this unique dream route, do not forget to taste the regional delicacies and famous wines to enjoy a real royal vacation experience!
Accommodation
We have carefully selected all the hotels on the tour for you. The hotels are easily accessible from the bike path and close to the main attractions of the cities.
For this bike tour we offer two different hotel categories:
> Category A: 3***/4**** Hotels
> Category B: 2**/3*** hotels
All rooms have shower / WC. In the 2** hotels the air conditioning can sometimes be missing.
When booking the tour we offer different types of rooms:
> A double room is a room with a double bed
> A 2-bed room is a room with two separate beds
>A 3-bed room is usually a room with a double bed + a bed/sofa bed.
Please specify the option "shared room" when booking – or just let us know when booking.
Requirements & route
> The route is not very demanding, although it sometimes runs on hilly sections that require some fitness.
> The daily routes are about 50 km long and of medium difficulty. You will drive a total of about 275 km and about 1,240 meters of altitude uphill.
> Mostly you will ride on bike paths or paved roads with little traffic, sometimes on dirt roads (about 9%).
> There are train connections between all overnight destinations. In addition, on days 2, 3, 4, 5 and 6 you have the possibility to shorten the stages by train.
> The trip is not suitable for persons with reduced mobility. Please contact us for detailed information if needed.
Rental bicycles
Rental bikes: If you want to rent a bike from us, you will get a very good unisex city bike with Deore Shimano 27 speed derailleur. Also available as a men's bike. 7-speed hub gears with coaster brake on request also possible.
Electric bikes (pedelecs): You can also rent an electric bike for this trip. These are equipped with 9-speed gears and assistance up to 25km/h. Performance: approx. 90 km (depending on driving style)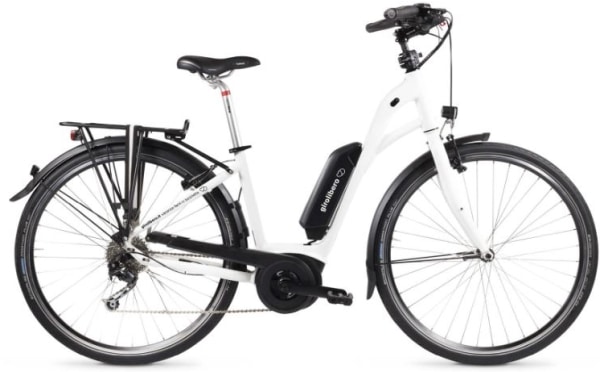 All bikes are equipped with mudguards, puncture-proof tires, single-sided waterproof pannier, handlebar bag (1 x per room), bike computer, repair kit (1 x per room) and bike lock.
Own bikes
> It is possible to bring your own bikes, but at your own risk.
> For possible damages etc. on the own bike during the whole bike trip as well as during transport trips can not be liable.
> On this trip there is a small additional fee for bringing your own bike. Please indicate this when booking. To do this, please book the option "bike".
Tips for cycling in France
In France, helmets are not compulsory. However, we recommend that you always wear a bicycle helmet on all bicycle tours. You are also welcome to borrow a helmet for the duration of the trip (head circumference 54 – 61 cm).
Half an hour after sunset outside cities and in tunnels, cyclists in France must wear a high-visibility vest.
Arrival
Car and parking
If you arrive by car, there is a free parking lot (unguarded) at the first hotel for the whole bike trip (not reservable).
Arrival by plane
The easiest connection is via one of the Paris airports.
In Paris, you will then need to take a shuttle bus or subway to the Gare d'Austerlitz station. From there trains run regularly to Orléans. The trip takes about 70 – 90 minutes. The train stops at Orléans Les Aubrais from where a shuttle bus will take you to Orléans Central Station in 5 minutes. For more information and tickets, please contact SNCF travel information.
Return transfer from Saumur to Orléans
By bus
> Every Saturday and additionally every Sunday 02.07. – 20.08. from 2 persons. Price: € 100,- / person ( € 130,- incl. bike). To be reserved with booking.
> The bus will pick you up directly from the hotel in Saumur and take you to the starting hotel in Orléans.
> Recommended if you bring your own wheels.
By train
> Good train connections between Saumur and Orléans (partly with change of trains in Tours)
> Information on this can be obtained from the French railroad company SNCF or also the travel information of Deutsche Bahn.
> Not recommended if you bring your own wheels
Country information
Please note our information on entering France under our country information. Please also see our notes on package tours.
Sightseeing on the way
Chateau de Meung sur Loire
Blois: Pont-Jacques Gabriel, Cathédrale Saint-Louis, the castle
Domaine de Chaumont-sur-Loire
Amboise Chenonceau Amboise
Tours: Cathédrale Saint-Gatien, Pont suspendu de Saint-Symphorien, Pont Montlouis/Vouvrau
Forteresse de Chinon
Château de Saumur