Your trip
Norway is a paradise for cross-country skiers! The tranquility of winter and the expanse of whiteness to the azure skies enchant. Over kilometers of trails, exemplary tracked for classic and skating, lead through the winter wonderland to the evening sauna and coziness of the fires in the fireplaces. This land eludes words. It wants to be experienced.
Cross-country skiing is a popular sport here. And so also in Venabu a fantastic cross-country skiing area awaits you with up to 120 km of prepared trails leading through a beautiful Norwegian winter landscape.
During this cross-country skiing week in Norway, you will stay at the cozy and family-run Venabu Fjellhotell south of Rondane National Park.
The cross-country ski trails pass directly by your accommodation. So you have the opportunity to ski your circles every day on your own and enjoy this unique winter landscape. The staff on site will be happy to give you the right tips for your excursions.
Snowshoe hikes, dog or horse-drawn sleigh rides and also guided cross-country skiing tours are also offered directly by the hotel. Here you are free and can decide for yourself if and in which additional activities you would like to participate (payable and bookable directly on site).
Your hotel
Your accommodation, the rustic Venabu Fjellhotell is located at 932 m altitude free and in a beautiful location in the Venabygdsfjellet mountains south of Rondane National Park. This high mountain plateau offers beautiful wide plateaus, high mountain lakes and peaks up to an altitude of 1,500 meters.
Venabu Fjellhotel is known for its very good local cuisine and wide selection of vegetarian dishes. Every Wednesday there is the special "Norsk Matbord"- a buffet with traditional dishes, which will also be presented to you.
Enjoy the magnificent view from the dining room over the mountains with an a la carte meal or a cup of coffee in addition to the fixed meals.
> Breakfast: rich breakfast buffet
> Lunchtime: self-prepared packed lunch; lunch menu bookable with surcharge
> Dinner: 3-course menu or cold and hot buffet
Special meal requests, such as for diabetics, please specify when booking.
The rooms
The rooms have a cozy but simple standard and are offered in two different room categories (non-smoking rooms only).
Room category A
The rooms are located in the newer west wing, 4 floors with elevator, underfloor heating in the bathroom. On the lower floor there are two saunas and a trim room with table tennis. Most standard rooms have double beds (twin rooms with separate beds are also possible). Larger corner rooms with double beds bookable with extra charge.
Room category B
The rooms are located in the east wing with 2 floors without elevator. Bathroom with underfloor heating. The rooms are slightly smaller than category A, but no less comfortable. Double and separate beds possible (please specify request when booking).
Log cabins
On request, we are happy to offer you rustic log cabins near the hotel for rent as accommodation (various sizes and equipment).
Feel free to contact us!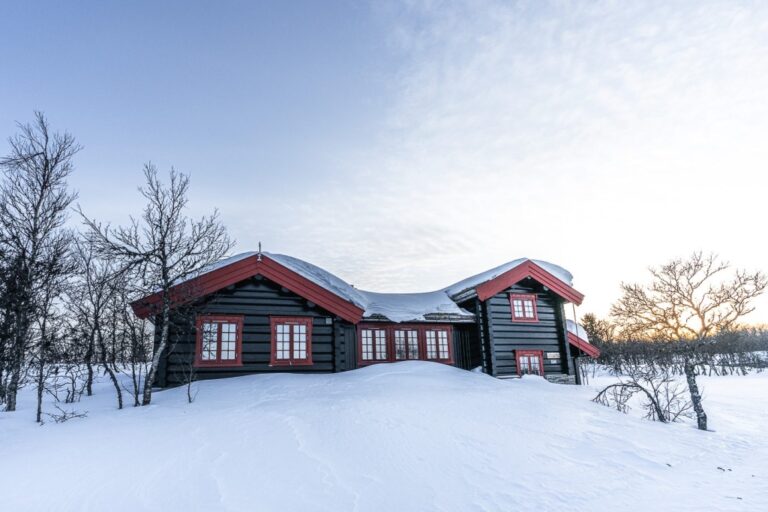 Requirements and route
The cross-country skiing area includes up to 120 km of groomed trails. Venabygdsfjell has very special qualities for cross-country skiing. The wide plateaus south of Rondane National Park offer a healthy mix of open landscape and peaks, and in the south the birch forest protecting from the wind. Due to the many connecting trails, you can do many different tours.
Since you are on your own, you can determine your own pace and the length of the routes. The staff at the hotel will be happy to advise you on site and give valuable tips for the most beautiful routes.
If you are inexperienced on skis, the hotel also offers cross-country skiing lessons. It increases the pleasure of skiing immensely if you mastered the technique. The courses can be booked directly on site.
Equipment
Since you are skiing on groomed trails, normal cross-country skis are suitable. Skating is also possible, but not in the whole area.
You can rent skis, boots and poles. You can find the prices and options under "calculate and book". Most skis are good, slightly wider mountain skis with steel edges. When booking, please specify your body and shoe size.
Waxing facilities are available in the ski cellar. They will also be happy to help you here.
Arrival by air
Oslo Gardermoen Airport:
If you arrive by plane, we offer a transfer from Oslo-Gardermoen Airport to the hotel and back on Saturdays. Please book the option "Transfer" and tell us additionally that you want a transfer to the airport.
The bus leaves the airport at 14:00 and returns the following Saturday at 13:00. Please coordinate the times again briefly with us before booking the flight.
Arrival by train
From Oslo Gardermoen Airport or directly from Oslo Central Station you can take the train to Ringebu (about 3 hours). From there, the hotel bus will pick you up by prior arrangement ; surcharge between 20:00 and 08:00: 10,- EUR / person / route). You can find train schedules and tickets here: www.nsb.no
Arrival by car and ferry
If you would like to travel by car, the Colorline ferry mini-cruise from Kiel to Oslo is a great option.
We will be happy to make you a package offer for the trip including ferry crossing. The drive from Oslo to the hotel takes about 4 hours. We recommend that you take snow chains with you.
Country information
Please see our entry information for Norway on our Country Information page. The trip is not suitable for persons with reduced mobility. Please contact us for detailed information if needed.
We recommend that you take out travel cancellation insurance. you can find a quote on our travel insurance page.
Our tip
On request: English language courses and private lessons
On request: snowshoe hikes, dog or horse-drawn sleigh rides
On request: add a 5-day ski safari or a guided ski tour to your tour