Your trip
Wow. On the bike across the Alps.
This is one of our few trips that combine aspiration and athleticism with the glory of the mountains. In this respect, this beautiful bike trip is a little provocation. Alps and bike. That means climbing, suffering, sweat, joy and freezing. Yes, just as well. But it also means a view, rest and pride in what has been achieved. This tour takes you from the Inn Valley, the capital of Tyrol, over the main ridge of the Alps through the lovely valleys of South Tyrol to sun-drenched Lake Garda.
Beautiful cities like Innsbruck, Merano and Trento are on the way. The courses of the Inn and Adige rivers lead to Lake Garda via Lake Resia and Lake Caldaro. Impressive mountain ranges form an imposing panorama. And from Reschen to Lake Garda, orchards and vineyards characterize the route: from blossom to harvest, it is always cycling season on the southern slopes of the Alps.
Are you in the mood for cycling and lake and mountains – but less for competitive sports ?
We also offer this trip as a pleasure tour .
Experience the mountains and lakes of the high mountains, the sun of South Tyrol and the vastness of the valleys by bike: the hospitality will inspire you, the magnificent nature will enchant you!
Accommodation
You will stay in family and family-friendly 3*** hotels, inns and guesthouses
Catering
every day a rich breakfast is included
Route and requirements
Follow the well-developed bike path from the Inn Valley through Tyrol and South Tyrol to Lake Garda. Discover unique natural and cultural highlights along the way. In total, you will cover 450 kilometers on this tour with your Bicycle back.
Beautifully laid out bike paths lead along the Inn and Adige rivers. Numerous farm roads allow you to cycle largely car-free between the orchards and vineyards in peace and enjoyment. If you like, we will bring you by transfer from the Inn Valley to the Reschen Pass. You will then ride rapidly downhill for 1,200 meters in altitude. In between, there are smaller climbs every now and then.
The trip is not suitable for persons with reduced mobility. Please contact us for detailed information if needed.
Rental bicycles
Sturdy unisex touring bikes, 7 speeds with hub gears and coaster brake or 21 speeds with derailleur and freewheel (please choose when booking), comfort saddle, 28 inch with different frame heights. On request also 21-speed men's bike possible.
Rental bike PLUS: the sportier option! High-quality equipment, for example, with 27-speed Shimano Deore XT gears, Magura brakes HS 11 and Suntour suspension fork.
Electric bikes: unisex bikes with electric pedal assistance up to 25 km/h; 8-speed gears with freewheel; range approx. 120 – 180 km (depending on riding style).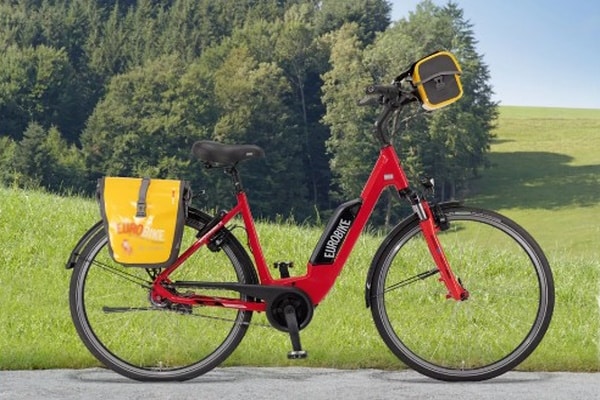 Own bikes
It is possible to bring your own bikes, but at your own risk. For possible damages etc. on the own bike during the whole bike trip as well as during transport trips can not be liable.
For your own safety, we recommend that you always wear a bicycle helmet on all bicycle tours.
Arrival by train
Travel relaxed by train. Innsbruck is easily accessible by train. If you rent the bikes with us, you will also not have any stress with the bike transport. Just get on the train with you, on vacation, ready, go! Information and timetables can be found at Deutsche Bahn(www.bahn.de) or Österreichische Bundesbahn, www.oebb.at.
Return transfer
For the return journey to Innsbruck we recommend you to book our transfer.
The return journey by public transport 'on your own' is possible, but inconvenient and connected with several changes bus and train: You take a public bus from Riva or Torbole to Rovereto. From there you go by train to Innsbruck
If you book the return transfer through us, you can drive back relaxed in the morning on Saturday. You simply leave your rental bike at zielhitel. You can take your own bike in the transport. Please be sure to book the return transfer at the time of booking: Please book transfer person and transfer own bike without insurance.
Car/Parking
Parking is available on site from about 17,- / day. You can pay on the spot or you can book the parking option right away.
Note
Our tip, if you don't want to load yourself up quite so much and still want to cross the Alps: We also offer this trip as a pleasure tour .
Country information
Please note our information on entering Austria and Italy under our country information. Please also see our notes on package tours.
Unforgettable
The life experience by bike across the Alps
The magnificent panorama of the Ortles
The fruit paradise of South Tyrol and olives over olive groves on Lake Garda
The Reschen Pass