Your trip
Father Rhine and his daughters
Enjoy the Moselle and the deeply cut Rhine valley in eight wonderful days between lovely wine villages, steep mountain slopes of Eifel, Hunsrück and Taunus, once mighty castles of the Trier, Chur-Main and Cologne archbishoprics. Enjoy the Mosel hospitality at every turn. From the Roman city of Trier you cycle via the Prussian metropolis of Koblenz to the Rhineland-Palatinate capital of Mainz.
On your way to the Deutsches Eck (German Corner) in the heart of Koblenz you will cycle – always following the Mosel loops – through charming wine-growing villages below the steepest vineyard in Germany, the Calmont and the Reichsburg Cochem. Continue following the wildly romantic Rhine uphill south into the land of castles, the Loreley through the World Heritage Site of the Middle Rhine.
In 8 daily stages you will get from the Roman metropolis Trier to the Roman Castell – city Mainz. On the way, you will have plenty of time to stop at the countless Straußenwirtschaften and wine cellars and get to know the world of winegrowers.
Accommodation
You will stay in genuine Moselan and rustic Rhine hotels, regionally typical, very good middle class hotels of the 3*** category – always with their own wine magic.
Catering
> Daily breakfast buffet or extended breakfast included
> When booking half board incl. 5 x 3-course dinners, not in Trier and Koblenz, possibly in neighboring restaurants.
The route
> Mostly flat, very well-maintained bike paths and quiet, low-traffic side roads
> 8 easy daily stages between 40 – 59 km, a total of about 200 km. The kilometers may vary depending on the location of the hotels.
Please note: The trip is not suitable for persons with reduced mobility. Please contact us for detailed information if needed.
Rental bicycles
> Robust touring bikes: 7-gears with hub gears and coaster brake or 21-gears with derailleur gears and freewheel, comfort saddle, 28 inch with different frame heights If you are taller than 1.90 m or shorter than 1.60 m, we will ask for wheels with 66 frame or 26 inch tires for you.
>: 8-speed gears (freewheel, without coaster brake); range approx. 70 km (depending on riding style); only 21 kg net weight; suitable for body heights from 1.60 m – 1.90 m (bookable on request).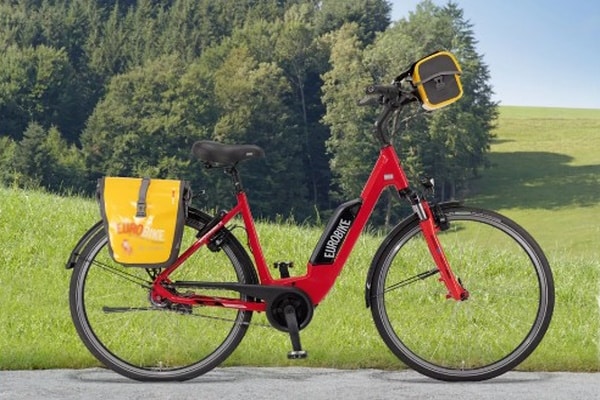 Own bikes
It is possible to bring your own bikes, but at your own risk. For possible damages etc. on the own bike during the whole bike trip as well as during transport trips can not be liable.
For your own safety, we recommend that you always wear a bicycle helmet on all bicycle tours.
Arrival
Railroad
> Both Trier and Mainz are easily accessible by train. The Middle Rhine and Moselle Valley Railways are among the most beautiful railroad lines in Germany – a real experience!
> You can also find more information about the timetables at www.bahn.de.
Car & Parking
Parking possible in unguarded public parking lot near the hotel.
Return transfer Mainz – Trier
By rail
> 2nd class, without train reservation, only regional trains, mostly hourly from Mainz HbF with change in Koblenz HbF to Trier.
> Bicycle transport possible: free transport of own bicycles from Mon.-Fri. from 09:00; Fri, Sat, Sun without time limit.
> Please be sure to book "Transfer Person" in the booking form.
The return transfer of own bikes to Trier by train return is possible daily.
> Drop off no later than 4:30 pm the day before at the hotel. Delivery in Trier until approx. 10:00 a.m. the following day at the hotel of departure
> Please be sure to book"Transfer Fahrrad ohne Versicherung" or"Transfer Fahrrad mit Versicherun" in the booking form.
Things to see on the way ...
The old Roman city of Trier with the world-famous Porta Nigra, the cathedral, the Imperial Baths and a lot of joie de vivre.
The lovely Moselle landscape with its wines, mountains, bridges, castles and cities
The World Heritage Site of the Middle Rhine Valley with all its castles, cliffs, valleys and Rhinelands
The guard on the Rhine with emperor and fortress in Koblenz
Mainz, the capital of Rhineland-Palatinate