Your trip
Norway is a paradise for cross-country skiers – and Høifjellshotell Fefor one of the most beautiful places,
to get a taste of this noble sport – or to hone your technique!
Why?
Well. It's just great here:
The tranquility of winter and the expanse of whiteness to the azure skies enchant. Over kilometers of trails, exemplary tracked for classic and – in part – for skating, lead through the winter wonderland to the evening sauna and coziness of the fires in the fireplaces. This land eludes words. It wants to be experienced.
Cross-country skiing is a popular sport here. And so a fantastic cross-country skiing area with up to 120 km of prepared trails also awaits you here. During this cross-country skiing week in Norway you will stay at the cozy Høifjellshotell. The house is secluded with a view over lake Feforvatnet and right by the cross-country ski trails. Between the Rondane National Park and the Jotunheimen mountains you move in the Peer Gynt area. With its forest and mountain landscape, it offers one of the most beautiful and varied cross-country skiing areas in Norway.
Spend a few days in this historic hotel, where Sir Robert Falcon Scott prepared his expedition to the South Pole in 1912 and where the Norwegian royal family used to spend their winter vacations. You can go on extensive cross-country skiing tours every day or take part in activities offered on site, such as snowshoeing, ice fishing or dog sledding (payable and bookable directly on site).
Make your own circles on skis through the unique winter landscape. The staff on site will be happy to give you the right tips for your excursions. The house offers snowshoeing, dog or horse-drawn sleigh rides, and also guided cross-country skiing tours usually with English-speaking guides. Decide if you want to participate and in which additional activities. Book – depending on the weather, mood and desire – simply spontaneously on site at the hotel.
The hotel
The hotel was built in 1891 and has been expanded ever since. Today it offers 111 double, single and family rooms. The hotel is located at 930 m above sea level and has a wonderful view and very quiet location. The nearest larger shopping facility is in Vinstra, about 13 km away.
Catering
The hotel's beautiful restaurant offers a wonderful view over the lake. As far as possible, many local products are offered.
> Breakfast: Breakfast buffet / Brunch
(07:30 – 13:00)
> Afternoon tea and coffee by the fireplace
(14:00 – 16:00)
> Dinner: cold and hot buffet
(19:00 – 21:00)
Please specify special meal requests when booking.
Packed lunches can be ordered directly from the hotel the night before – for an extra charge of the house. Your own thermos will also be refilled.
Room
Standard room
The rooms are located in the newer part of the building and have a simple but comfortable standard (size: approx. 21 sqm). Also bookable for single use (with surcharge).
Superior room or family room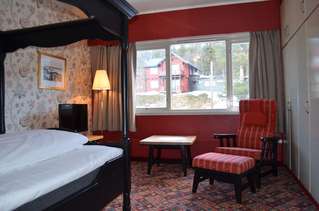 The rooms are also located in a newer part of the building. They also offer a comfortable sitting area. Size: about 30 – 33 sqm.
Rooms in the historical part of the building
The rooms are located in the original part of the hotel. Each of them is 2 rooms and 1 bathroom. Since these are historic rooms, they vary in size. Feel free to contact us.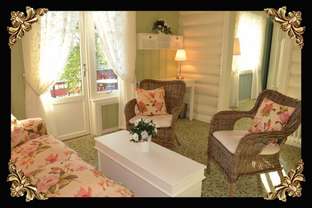 All rooms are equipped with bathroom, toilet, TV and telephone (hairdryer available at the reception). Lake view is available in all room categories and is bookable without surcharge depending on availability.

Recreational facilities
After a hard day on the cross-country ski trail, you can relax in the hotel's swimming pool with a view over the lake, the sauna or by the fireplace in the lounge. A small fitness room is also available for free use.
Requirements/distance
The cross-country skiing area of the Peer Gynt region includes a total of about 650 km of trails. Directly around the Hotel Fefor are about 90 km of cross-country ski trails, which are groomed regularly and as needed (for classic style). In strong winds, parts can also be iced over from time to time.
Since you are on your own, you can determine your own pace and the length of the routes. The staff at the hotel will be happy to advise you and give valuable tips for the most beautiful routes.
If you are inexperienced on skis, the hotel also offers cross-country skiing lessons (bookable and payable on site). It increases the joy of skiing immensely when you master the technique!
The trip is not suitable for persons with reduced mobility. Please contact us for detailed information if required.68
Equipment
> Since you are skiing on groomed trails, normal cross-country skis are suitable for the classic technique.
> You can rent skis, boots and poles on site. A possibility for waxing is available in the ski cellar.
Arrival by car / ferry
If you would like to travel by car, the Colorline ferry mini-cruise from Kiel to Oslo is a great option.
We will be happy to make you a package offer for the trip including ferry crossing. The drive from Oslo to the hotel takes about 4 hours. We recommend that you take snow chains with you.
Country information
Please see our entry information for Norway on our Country Information page.
We recommend that you take out travel cancellation insurance. you can find a quote on our travel insurance page.
Our tip
On request: English language courses and private lessons
On request: snowshoe hikes, dog or horse-drawn sleigh rides
On request: add a 5-day ski safari or a guided ski tour to your tour
A week de luxe in wonderful winter rest to hone technique and condition of this great sport in magnificent scenery