Your trip
Are you thinking of cycling down the Altmühl?
Great idea: The Altmühltal Cycle Path is now one of the most popular cycle paths in Germany!
This is due to the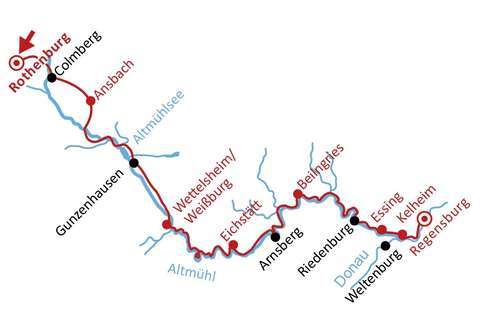 excellent, mostly flat route that takes you away from traffic through wonderful nature and charming medieval towns. Imposing castles and palaces as well as interesting rock formations make for a varied route. The very good signposting ensures relaxed cycling stages.
Watch the fascinating changes of the Altmühl on its course from its source to the Main-Danube Canal and further to its mouth into the Danube.
Arrival
Railroad
Gunzenhausen is very easy to reach by train.
You can also find more information about the timetables at www.bahn.de.
Car/Parking
Parking available in unguarded private parking lot at the hotel. Please pay any fees directly on site. They are not included in the tour price.
Things to see on the way ...
Hohenzollern Residence Ansbach Palace & Orangery in the Margravial Court Garden
Charlemagne's Ditch near Gunzenhausen - and Charlemagne's attempt to build a canal between the Rhine and Danube rivers
Eichstätt Cathedral and Residence Palace and Willibaldsburg Castle on Day 4
Roman fort Vetoniana near Walting-Pfünz on the 5th day
Crystal Museum Riedenburg
Danube breakthrough to Weltenburg on day 7