Your trip
Hiking on the panorama trail high above the Altmühl?
A truly beautiful idea!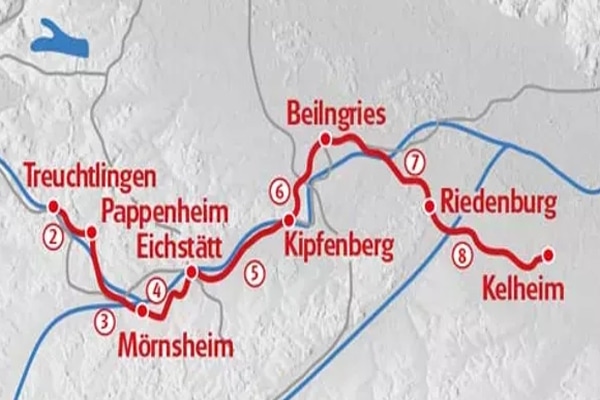 This hike takes you to the Altmühltal Nature Park. You will hike the first three stages of the entire trail from Treuchtlingen to Eichstätt. Routes 5 – 8 to Kelheim are omitted on this tour. They are included in the hiking tour 133a.
The nature park is known mainly for its romantic landscape. It invites you to a pleasant week of hiking in the midst of unspoiled nature. In addition, there is a cultural landscape steeped in history: mighty ramparts, reconstructed forts and spectacular treasure finds are evidence of the time of the Celts and Romans. Noble families built castles and palaces, prince-bishops magnificent churches and monasteries.
On your hike along the Altmühltal Panorama Trail you will be accompanied by rugged dolomite rocks, sun-drenched juniper heaths, gentle river valleys and extensive forests. The Altmühl enchants with its very special tranquility! Haste and stress fall away in an instant once you're on the road.
You will also get your money's worth in culinary terms in the Altmühltal: from spicy sausage specialties to regional hops, in the form of numerous tasty types of beer.
Accommodation
regionally typical middle class hotels and inns
Catering
Daily rich breakfast buffet or large sportsman breakfast.
The route
Easy hiking tours on good hiking trails. For the daily tours a good basic condition is to be brought along. The hikes are technically easy and can be done without difficulty. For the longer hiking days, there are shortcut options. You can also travel part of the way by public transport. Shown here is the respective maximum variant. Details of individual shortcut options by bus, train and boat can be found in the travel documents at the starting hotel.
Please note: This trip is not suitable for persons with reduced mobility.
Hiking with dog
On this walking tour you are welcome to take your four-legged friend with you. Please let us know the breed and size of your dog when booking. Any additional costs are payable on site.
Return journey
From Eichstätt please take the train back to Treuchtlingen. You will have the whole last day to return home, so you can take it easy. The train connection is direct, so you usually do not need to change trains. They are on the road for about half an hour.
You can find connections by the hour e.g. at www.bahn.de.
Arrival
Railroad
We recommend that you arrive by train. Start your vacation at home and enjoy the journey to the land of the Altmühl.
Treuchtlingen is very easy to reach with regional trains of the Deutsche Bahn. More information about the schedules can also be found at www.bahn.de.
The starting hotel is located about 10 minutes walk from Treuchtlingen train station.
For a stress-free start to your trip, we recommend that you allow plenty of time and arrive at your starting hotel by early evening.
Car/Parking
Free parking is available at the Treuchtlingen train station. Limited parking is also available directly at the hotel. They cost about 5 € per day and can not be reserved in advance. If necessary, please discuss availability and payment directly on site when you arrive.
Think one step bigger ?!
No problem – this trip has a big sister. With tour 133a you are on the road for 9 days instead of 5. Feel free to take a look at the complete Altmühl crossing.
Things to see on the way ...
Treuchtlingen with the Upper Veste and the 'Fossa Carolina', the Charles' Ditch
Eichstätt Cathedral and Residence Palace as well as Willibaldsburg Castle on the first and last day
The boat trip through the Danube breakthrough to Kelheim on the penultimate day