Your trip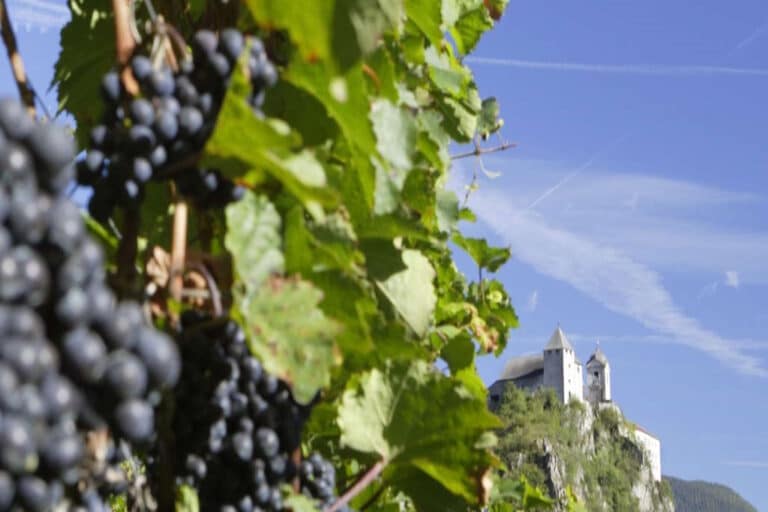 Castles, palaces and manors characterize the landscape of the South Tyrolean Wine Road between Bolzano and Merano. Numerous wineries invite you to taste the lush South Tyrolean wines.
This tour lets you experience the lovely heart of the South Tyrolean Alps. You are on the road in vineyards under the ever-changing but always magnificent mountain panorama of the Dolomites. You will experience the friendliness of this wonderful country.
Please note: The tour is not a mountain tour. It does not lead directly into high alpine rocky terrain. They move mainly on firm paths in the sunny ripe valleys and vineyards of South Tyrol.
From the southern part of the Alps, hike from the old bishop's town of Bressanone to the cultural capital of Tyrol, multicultural Bolzano. You will then move on to the thermal city of Merano with its Mediterranean climate.
On the first part of the hike, the "Keschtnweg", or chestnut path, gives you direction. It enchants your senses, like a terrace, with a magnificent view of the Dolomites to the south.
From the popular summer freshness place of Bolzano, the Ritten, it goes very close to the Dolomites. Vineyards and orchards line your path on the second section of the hike through one of the most beautiful areas of South Tyrol in the center of South Tyrolean viticulture. Lake Kaltern – South Tyrol's most famous lake – becomes a real highlight on this hike through South Tyrol.
Accommodation
You will stay in selected inns and hotels of the 3***, partly 4**** category. We attach great importance to regional authenticity in our selection. You will experience genuine South Tyrolean hospitality.
Please pay tourist tax, if due, directly on site.
Catering
Every day the tour offers you a rich breakfast or buffet.
If you have booked half board, you can look forward to 3-course dinners every evening
Requirements & route
This sporty pleasure hike runs along marked trails, mainly through meadows and forests. It is not technically demanding and is oriented to the pleasure of movement, foresight and air.
You will remain in visual contact with the Dolomites, but you will not find rocky paths on your route.
Some sections can be shortened by public transport.
This hiking trip is suitable for children 12 years and older.
This trip is not suitable for people with reduced mobility. Please contact us for detailed information if needed.
Please see our notes on requirements and our tips on packing list and preparation. We recommend that you take out travel insurance .
Arrival
By train
By car
You can get to Brixen via the Brenner freeway (A22) or drive
via the Felbertauern Road to Lienz in East Tyrol. Cross the Austrian-Italian border and continue on the SS49 through the Pustertal valley to Brixen.
Parking lot
Parking possibility in Bressanone at the starting hotel:

Hotel garage: approx. € 60,00 / week; € 11,00 / day
Parking Residence Gasser: about € 40,- / week
Unfortunately, an advance reservation is not possible. Please pay directly at the hotel.
By plane
The nearest airports are Innsbruck (about 83 km), Verona Villafranca (about 191 km), Treviso (about 228 km), Venice Marco Polo (about 313 km).
Transfer back from Merano to Bressanone/Brixen
You have at your disposal very good train connections on the route Merano – Bolzano – Bressanone.
Information and timetables can be found at www.trenitalia.com, www.sii.bz.it
The price for the return trip is about € 10,- to € 20,- / person.
Country information
For information on entry requirements to Italy, please see our Country Information page.
Note on Day 1:
Please note: This tour has a 'big sister'.
Hike 148b resembles it as a twin to the hair – only it sends it ahead only one more day. Tour 148b is therefore one day longer.
On the first day you warm up easily from Bressanone via Neustift Monastery to Lake Vahn. On the map, see below, this first round tour from Bressanone is also shown, but not included in this short variant. So start in this variant 146a of day 2 – or look at the variant 148b an. This includes the first day with the round trip from Bressanone to Bressanone. The rest then proceeds in the same way.