Your trip
Experience a unique winter adventure in the wild and exotic nature of Norway!
Well-marked cross-country skiing and snowshoeing trails lead into the wilderness. A silence that can only be experienced in a few places in Europe. Moose are almost certain to be seen during your stay.
This active week is suitable for beginners but also for sworn Norway fans who want to experience something new.
During your snowshoe hikes, the cross-country skiing tours and the ice hike you will get an extraordinary insight into the Norwegian winter.
A dog sledding tour near Hindsæter is also available upon request.
You can relax daily in the hotel's wellness area and then enjoy the excellent Norwegian cuisine with mainly local products.
What makes this tour so special?
It's not just the experience – you yourself are the focus. This tour is not guided. You plan and go independently. However, the tour is accompanied intensively by the host accommodations. It is thus aimed – quite low-threshold and unofficially – at prospective "winter tour guides" in Norway.
Are you unsure how to best plan a week in the snow in Scandinavia yourself, how to correctly assess snow, ice and weather conditions yourself? Then you are exactly right here. Our local partners are happy to discuss your plans and experience with you: Maps, trails, snowshoe trails, weather and conditions to incorporate into your day's plans. Look forward to vacation – and take a "mini training" to the winter expert Norway right away :-).
Accommodation
The hotel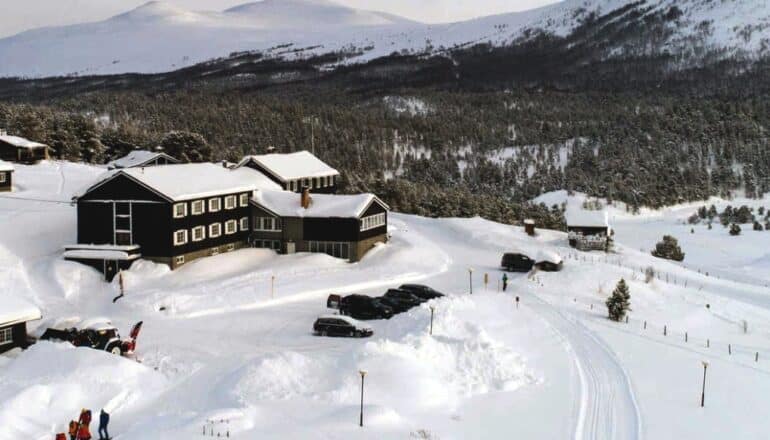 The small historic Hindsæter Hotel is located by the Jotunheimen National Park, only 15 km from Gjende and Besseggen.
Hindsæter was built in 1898. The house impresses with its unique view over the valley and the national park. Hindsæter today is a wonderful place to relax with an extraordinary number of opportunities right on your doorstep. Also enjoy the very good Norwegian food that is offered to you here.
Catering
The hotel restaurant was included in the list of the best restaurants serving local specialties by Innovation Norway.
Hindseter is especially known for its reindeer dishes.
Included in the tour price are
> Breakfast
> Self-prepared packed lunch
> 3 course dinner
Special meal requests such as gluten-free or vegetarian please specify when booking.
Room
The hotel includes 7 double rooms and 10 romantic alpine suites with views over the valley or the surrounding forest. All rooms were completely renovated in 2020.
Double room
The double rooms are small but cozy and functionally furnished.
All have their own shower / WC.
Alpine suites
The Alm suites are furnished with historic farm furniture, traditional hand-woven tapestries, slind (cover for beds) and an old door to the "cheese store", which can be filled up for your arrival. The romantic beds are produced in Norway by Dokka Bondemøbler with quality mattresses from Jensen.
Wooden panels on the walls and a log table from the local forest, moose and reindeer antlers. Seating area with warm wild sheepskins and good reading lamp. If you have booked an alpine suite, access to the whirlpool and saunas in the Kultursauna is included.

Wellness area
After a busy day of activity, you can relax in the hotel's wellness area. Welcome – after a long day of hiking or skiing – in the whirlpool, to warm up in the saunas or to refresh a snow bath outside.
If you have booked a vacation apartment Almsuite, the use is included, otherwise for an extra charge, payable on site. Only for adults over 18 years.

The wellness is modeled after a small Norwegian mountain farm. Hundreds of years old pine beams of an old log barn decorate the outer wall of the sauna and other walls. The infrared cabin is dressed as a stone hut. Weathered wood and old doors convey history and culture around and in Hindsæter. The whirlpool is lined with wood from the water pipe of the old power station. The mountain formation "Hindholet" is painted directly with oil on the wall.
Equipment & requirement
Requirements
> The activities offered are very suitable for both beginners and advanced.
> The level of difficulty is adapted to the requirements of the group.
> The trip is not suitable for persons with reduced mobility. Please contact us for detailed information if needed.
Equipment
> The equipment for the cross-country skiing and snowshoeing activities will be provided for you on site, included in the tour price.
Arrival & Transfer
Arrival airport / train
From Oslo Gardermoen Airport or directly from Oslo Central Station you can take the train to Otta (about 3 hours). From there you will be picked up by prior arrangement (price and times on request).
You can find timetables and tickets for Norwegian Railways here: Norwegian State Railways
Arrival by car / ferry
If you would like to travel by car, the Colorline ferry mini-cruise from Kiel to Oslo is a great option.
We will be happy to make you a package offer for the trip including ferry crossing. The drive from Oslo to the hotel takes about 4 hours. We recommend that you take snow chains with you.
Country information
Please see our entry information for Norway on our Country Information page.
We recommend that you take out travel cancellation insurance. you can find a quote on our travel insurance page.
Unforgettable
A winter week of fun, sports and relaxation in the magnificent expanse of Norway
The hospitality of Hindsæter Hotel