Your trip
By bike and boat to three capitals in the heart of the old Danube monarchy
… a very special experience, because your "floating hotel" is always with you!
Forests, rocks, castles and the warm hospitality of the people along the river await you on this tour. You always cycle along the river mainly on car-free cycle paths and cross it now and then on rustic ferries, massive weirs and historic bridges.
The impressive natural spectacle of the Schlögener Donauschlinge, the fascinating landscape of the Wachau with its wine terraces, castles and palaces, the untouched floodplain forests of the Danube Floodplain National Park and the picturesque Hungarian Danube Bend alternate with vibrant metropolises such as Vienna, Bratislava and Budapest.
The wide stream runs like a silver thread through Budapest, dividing the city into mountainous Buda and flat Pest. In Esztergom, the imposing dome of the basilica greets you from afar. Bratislava, formerly Pressburg, the Slovak capital at the foot of the Little Carpathians, invites you for an extended stroll with its charming old town.
Would you like a little flirt with Vienna, the city of the waltz? A firework of sights, small, dreamy coffee houses and cozy wine taverns await you on your bike & boat trip.
Your ship: The Princess Catherine
On board the premium ship MS Prinzessin Katharina you can expect classic elegance, a friendly crew and dignified furnishings. Enjoy the special ambience and let yourself be spoiled by the good cuisine. Spread over two passenger decks are a panoramic restaurant, a cozy lounge, two bars and an inviting foyer.
A book corner, a small store and a massage parlor complete the offer. On the spacious, partially covered sun deck, there are plenty of sun loungers at your disposal.
Board language: German & English
Cabins
All 71 cabins are outside cabins and comfortably and tastefully furnished.
They have shower/WC, hairdryer, air conditioning, TV, on-board radio, telephone and a small refrigerator.
Upper deck
29 double, 1 triple and 2 single cabins; all approx. 11 sqm in size and with French balcony (= floor-to-ceiling windows to open).
Twin cabins with a sofa bed as well as a Pullman bed (stowed during the day for added comfort).
In the 3-bed cabin, a 3rd bed folds down from the wall (max. 80 kg).
Main deck
38 double cabins, 1 single cabin, all about 11 sq.m., two sofa beds (standing across the corner), panoramic windows (cannot be opened).
Technical data of the vessel
year of built: 1990, renovation: 2015, flag: Malta, length: 110 m, width: 11,2 m, draft: 1 m, passengers: max. 140, Crew: approx. 30.
Requirements
> The bike tours are individual and unguided. They cover between 35 and 50 km a day (circa distances of the recommended cycling tours).
> Easy to ride route: the terrain is mostly flat, has hardly any inclines and is suitable for pleasure cyclists, beginners and children.
Should you wish to take a rest, you are welcome to cover individual daily stages by boat.
The trip is not suitable for persons with reduced mobility. Please contact us for detailed information if needed.
Rental bicycles
>7-speed unisex touring bikes or 8-speed e-bikes (limited availability), Velo de Ville brand (custom made).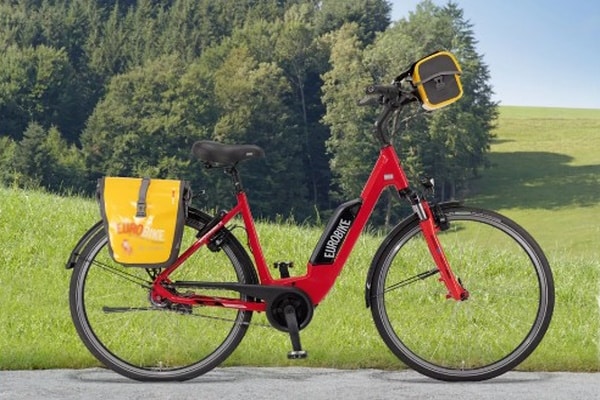 The wheels are equipped with luggage carrier bag and each with hand brake, freewheel or coaster brake. Please specify your request when booking. Rental bike insurance is included in the price.
Own bikes
> Bringing your own bikes is only possible on request due to limited space. Please be sure to book the"own bike" option for this.
> You take them with you at your own risk. We cannot be held liable for any damage/loss etc. to your own bike during the entire bike trip or for transport damage. Neither on board nor on land.
For your own safety, we recommend that you always wear a bicycle helmet on all bicycle tours. Helmets are compulsory in Austria for children under the age of 12.
Arrival / Parking in Passau
> Parking lot (fenced outdoor area) incl. Shuttle service to the ship and back: about € 90,- / week. Please be sure to book the option"Parking" with!
> Parking garage incl. Shuttle service to the ship and back: about € 100,- / week. Please be sure to book the option"Prakgarage" with!
You will receive a registration form in your travel documents and can pay on the spot. The prices may differ from the orientation values given here.
Short overview arrival & departure times
| | | | | |
| --- | --- | --- | --- | --- |
| Day | Location | To | From | |
| Day 1 | Passau, embarkation from 16:00 hrs | | 19:00 | |
| Day 1 | Engelhartszell | 22:00 | | |
| Day 2 | Engelhartszell | | 10:00 | |
| Day 2 | Untermühl | 12:00 | 15:00 | |
| Day 3 | Devin | 09:30 | 10:30 | |
| Day 3 | Bratislava | 12:00 | 21:00 | |
| Day 4 | Budapest | 10:00 | | |
| Day 5 | Budapest | | 02:00 | |
| Day 5 | Visegrad | 07:00 | 09:30 | |
| Day 5 | Esztergom | 12:00 | 16:00 | |
| Day 6 | Vienna-Nussdorf or Korneuburg | 14:00 | 22:30 | |
| Day 7 | Rossatz/Dürnstein | 07:30 | 09:00 | |
| Day 7 | Pöchlarn | 14:30 | 16:00 | |
| Day 8 | Passau, disembarkation from approx. 11:30 a.m. | 11:00 | | |
Please note:
Timetables and programs are subject to change without notice. If, for example, a route cannot be sailed due to low water, high water or bad weather, the skipper reserves the right to change the route for your safety (this is not a free reason for cancellation). The same applies to lock and/or bridge repairs ordered by the authorities and not announced in advance. Please also keep in mind that your riverboat is on the one hand your "vacation hotel", but on the other hand it is also a piece of working equipment that moves with engine power and has to be operated constantly, even at night (partly with lock and bridge passages). We recommend that guests who are particularly sensitive to noise bring earplugs. The lock passages are associated with disruptions – this is the case with all Danube cruises – and unfortunately cannot be changed.
Trips
Integrated in the bike tour program we offer you optionally a small excursion program. Please book and pay your participation directly on board. You will receive a brief description with your travel documents. Depending on the composition of the participants, the excursions may be offered bilingually German-English.
Country information
For information on travel advice and entry requirements to Austria and Hungary, please see our Country Information page. Please also see our notes on package tours.
Unforgettable
the steep narrowness of the Schlögener Donauschlinge
the lovely old town and mighty castle of Bratislava, capital of Slovakia
Budapest, capital of Hungary with its imperial palaces and the mighty parliament on the Danube quay
the artist village Szentendre at the gates of Budapest at the river
the cosmopolitan city of Vienna by boat and bike
the Wachau with its lovely wine villages, riverside forests and steep coasts