Your trip
Once ride the great Rhine tour?
Verily! By bike and boat to the World Heritage Site of the Middle Rhine.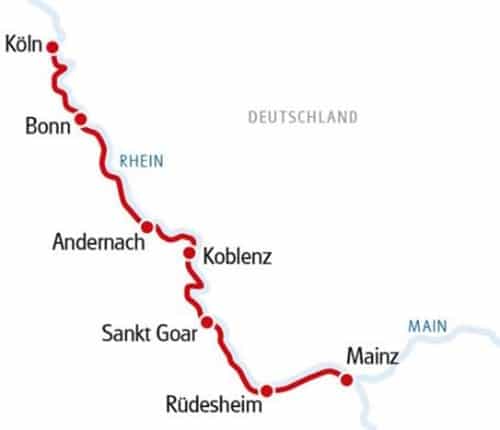 Come aboard for the great Rhine cruise. Bike and ship is probably the noblest way to experience the Rhine, its cities and castles.
From the capital of Rhineland-Palatinate, the Roman city of Mainz, through the UNESCO World Heritage Site to the valley of the Loreley. via the Prussian city of Koblenz and the old federal city of Bonn to the carnival metropolis of Cologne.
Behind rugged cliffs and steep vineyards of the slopes of Taunus and Westerwald you travel through the romantic Burgental. The hard rock of the Taunus below the Germania near Rüdesheim forces the Rhine to take a steep turn to the west. The up to the Bingen Mäuseturm in the middle of the Rhine then marks the beginning of the wildly romantic Middle Rhine Valley.
I bet the Rhine will knock you over!
Where else is the land so old, so saturated with myths and stories as on this 'River of the Germans': A trade artery since Celtic-Roman times, fiercely fought over and fortified with all its customs stations, defensive walls, border castles, symbols of power. Place of longing, European romance, carnival, lightness of life German French lifestyle.
Mountain ranges with fabulous views, vineyards as far as the eye can see, countless castles and palaces, enchanting half-timbered houses. You will discover all this and so much more on your tour: numerous romantic castles and palaces. Exciting stories are told about many of them. The legendary beauty of the landscapes invites you to a relaxing and beautiful vacation – with fine wines and many regional delicacies.
Your ship: The MS Olympia
On board of the comfortable and cozy riverboat MS Olympia the crew welcomes you in a family atmosphere.
The panoramic salon with bar, furnished in English club style, and the bright and friendly restaurant provide ample space for relaxed hours on board. On the spacious, partially covered sun deck, there are plenty of sun loungers at your disposal.
Board language: German & English
Cabins
All 49 cabins are outside cabins, comfortably and tastefully furnished.
They have shower/WC, hairdryer, air conditioning, TV, on-board radio, telephone, a small refrigerator and a safe.
Upper deck
On the upper deck you will find 22 two-bed cabins of approx. 11m2 each and four larger ones in the rear part of the ship as well as two 1-bed cabins (approx. 9m2). The panoramic windows on the upper deck can be opened.
Main deck
The main deck offers 21 2-bed cabins of about 11m2 each. These cabins are also all outside and each has a panoramic window, which, however, cannot be opened.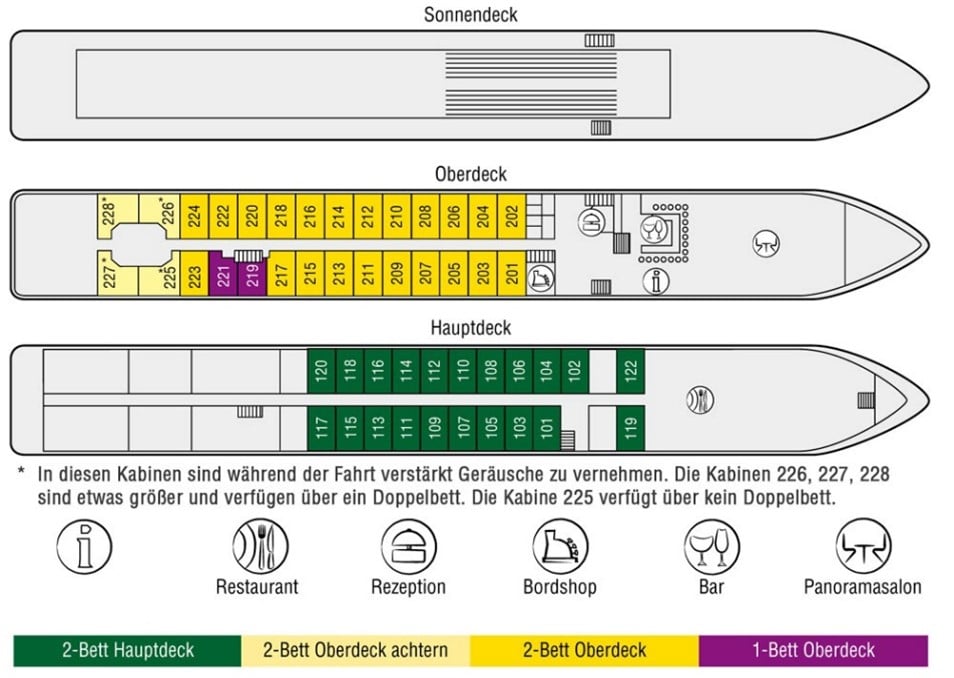 Technical data of the vessel
Year of built 1984 | renovation 2015/2016 | flag Switzerland | length 88.50 m | width 10.50 m | draft 1.50 m ½.
Crew approx. 21 | Passengers max. 96.
Cycling tour requirements
> The bike tours you ride individually and unguided. The gates are pre-discussed on a daily basis.
> They cover between 35 and 50 km a day. The total bike tour length is about 220 km.
> They mostly ride on paved bike paths and embankment roads or quiet country roads without any significant inclines. The tour is best suited for pleasure cyclists and beginners.
> The terrain is mostly flat, has hardly any inclines and is suitable for pleasure cyclists, beginners and children.
The trip is not suitable for persons with reduced mobility. Please contact us for detailed information if needed.
Rental bicycles
>7-speed unisex touring bikes or 8-speed e-bikes (limited availability), Velo de Ville brand (custom made).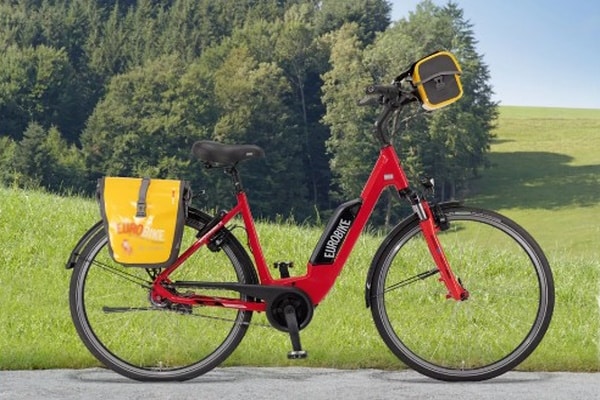 > Each with handbrake, freewheel or coaster brake (please specify as non-binding customer request when booking)
> Equipped with luggage carrier bag; incl. Rental bike insurance
Please indicate your height when booking.
Own bikes
> Bringing your own bikes is possible only on request is limited due to limited space.
> You take them with you at your own risk. We cannot be held liable for any damage/loss etc. to your own bike during the entire bike trip or for transport damage. Neither on board nor on land.
For your own safety, we recommend that you always wear a bicycle helmet on all bicycle tours. Helmets are compulsory in Austria for children under the age of 12.
Short overview arrival & departure times
Day
Location
To
From
Day 1
Mainz
ES 16:00
2nd day
Mainz
10:00
2nd day
Rüdesheim
11:30
Day 3
Rüdesheim
10:00
Day 3
St. Goar/St. Goarshausen
12:00
4th day
St. Goar/St. Goarshausen
10:00
4th day
Koblenz
13:00
Day 5
Koblenz
10:00
Day 5
Andernach
11:30
6th day
Andernach
10:00
6th day
Bonn
12:30
7th day
Bonn
10:00
7th day
Cologne
12:00
Day 8
Cologne
AS until 09:00
Please note that changes are possible at any time. If, for example, due to low water, high water or bad weather, a route cannot be taken, the captain reserves the right to change the route for your safety. Please understand that this is not a reason for a free travel cancellation.
Arrival
Railroad
We recommend that you arrive by train. Get on vacation at your home and enjoy the journey to the Rhineland.
Both Cologne and Mainz are easily accessible by long-distance and regional trains operated by Deutsche Bahn. For more information on schedules, visit www.bahn.de.
For a stress-free start to your trip, we recommend that you allow plenty of time and arrive at the quay no later than 17:00.
Car/Parking
You can use a parking garage at the main train station in Mainz. The pitches are unguarded and cannot be reserved in advance. Cost about € 10,- per day.
Return journey
From Cologne, you can easily take the train back to Mainz at direct hourly intervals. The return journey on the Mittelrheinbahn is a real experience! Find and book connections and tickets e.g. at www.bahn.de.
More Rhine ?!
No problem – this trip has three pairs of pretty sisters at once:
> Tours 301a and 301b take you along the Rhine between Koblenz and Mainz.
> Tours 302a and 302b take you from Mainz further along the Rhine into the land of the Nibelungen to Worms, the home of Tours And Travel, to Heidelberg and on to Alsace to Strasbourg.
> Voyages 305a and 305b take you from Koblenz on the Moselle and Saar rivers to the Roman city of Trier and the border triangle of Germany – France – Luxembourg.
Notes
Please note our information on entering Germany, Austria and Switzerland under our country information. Please also see our notes on package tours.
You can also find more ideas about events and tips in the region on our toptours page.
Things to see on the way ...
The valley of the castles, the Loreley, World Heritage Middle Rhine
Koblenz, the most beautiful fortified city at the confluence of the Moselle and Rhine rivers
Cologne, the cathedral, the Hohenzollern bridge, the carnival capital of Germany
Mainz, the city of the Romans and capital of Rhineland-Palatinate