Your trip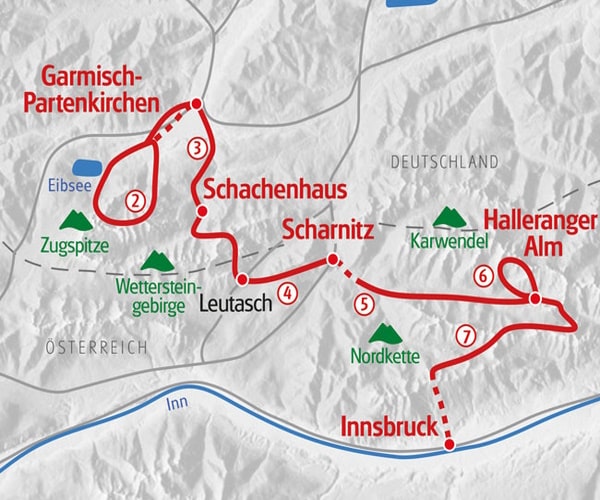 You have been dreaming of crossing the Alps for a long time?
Get started!
Although this tour brings you "only" over the Wetterstein and through the German-Austrian nature park of the Karwendel Mountains to the first main ridge of the Northern Alps over the Inn Valley. But still!
In eight days you will experience the Bavarian hospitality, the breathtaking wild beauty of the Northern Alps and the historical cultural area of Southern Bavaria in an inimitable intensity. Yes. You will feel the tour in your legs – and yes, it will pull you back to continue this tour one day all the way to Merano in South Tyrol. Welcome to the realm of the mountains!
The lush green mountains of Bavaria are among the most beautiful natural formations of the Alps. Gorges and deeply cut valleys lead up to the alpine pastures and peaks of the Wetterstein and Karwendel mountains. Impressive views await you on your trekking tour – always framed by a rugged, wildly romantic mountain backdrop. The choice of peaks, high-altitude trails and cozy mountain huts is almost inexhaustible.
You cross the Karwendel National Park up to the Nordkette. From there you float towards the end of the tour without any descent pains 😊 with the cable car into the valley to Innsbruck.
Tour character
Demanding trekking tour with tours from 4.5 to 7.5 hours. They partly hike in the high alpine area. Please bring surefootedness and hiking experience. You will notice – a good condition comes to you pass. You can find hints and tips on our Requirements page. Shortcuts by mountain railroad and public transport are partly possible.
Please note: The trip is not suitable for persons with reduced mobility. Please contact us for detailed information if needed.
Accommodation
You will stay overnight in typical regional, very good middle class hotels of the 3*** category. Two nights in a mountain hut in a shared room.
Catering
Daily breakfast buffet or extended hiker breakfast included.
Arrival
Railroad
Both Garmisch-Partenkirchen and Innsbruck are easily accessible by train. Regional and long-distance traffic connects the two cities directly, mostly at hourly intervals. You are on the road for about 1.5 h. And – the return journey by train is a real experience. You did all of this on foot. Chapeau!
For information on schedules, visit www.bahn.de or www.oebb.at.
You will find your starting hotel a few minutes walk from the train station.
Car & Parking
Parking possible in unguarded public parking lot near the hotel. Limited hotel parking spaces are available, unfortunately pre-booking is not possible.
Country information
Please note our travel advice for Austria on the overview page Country Information.