Your trip
Estonia – not only a digital pioneer in Europe but also a dream for cyclists.
This bike tour takes you from the Baltic coast to Estonia's most famous national park Lahemaa:. High moors, sleepy fishing villages, beaches and beautiful manor houses await you.
On your way to Lake Peipus, the fifth largest lake in Europe, lies the small and charming village of Rakvere with its medieval castle ruins. The unique villages of the Old Believers on the so-called Onion Trail along the lake shore are surrounded by a very special atmosphere. Here two nations and three cultures meet. Your cycling tour in Estonia ends in the friendly university town of Tartu.
Estonia offers plenty of space and air to breathe! Even in high summer you will always find enough space for yourself on the long sandy beaches.
Accommodation
In Tallinn, stay in the center at a 4**** hotel such as Hotel Hestia Ilmarine or Hotel Hestia Euroopa.
On the way you will find accommodation either in small hotels or inns. The rooms each have shower & WC. In Sahargu we spend one night in a simple B&B with shared bathroom. Everywhere you will enjoy friendly service and local cuisine. All accommodations are very lovingly and individually furnished.
All accommodations offer a rich cyclist breakfast. Their detailed route description includes restaurant recommendations and tips on supply options along the way.
We will be happy to make you an offer for an extra night for each place of accommodation, both in Tallinn and for the entire bike tour.
If you wish, you can also interrupt daily stages with an overnight stay and thus shorten one or the other stage a little. Feel free to contact us!
Route
> The route is mostly on smaller side roads. Often you drive for what feels like eternities until you run into someone again. Short sections can also be more heavily trafficked at times. There are hardly any bike paths like in Germany.
You can expect mostly relatively flat, sometimes slightly hilly terrain. There are no major inclines to overcome. You should be able to cover the daily stages of up to 70 km by bike.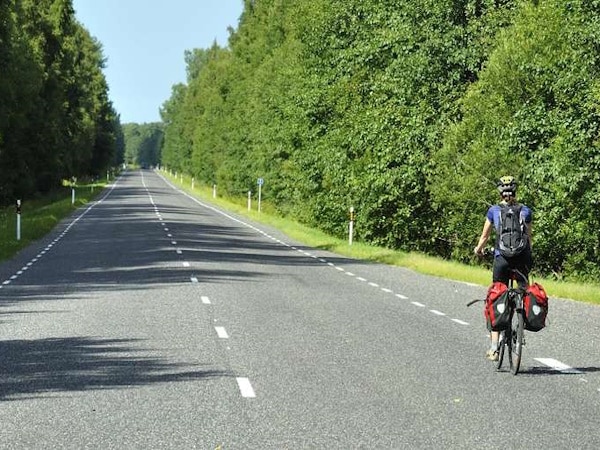 Please note: The trip is not suitable for persons with reduced mobility. Please contact us for detailed information if needed.
Please note: For this trip we can unfortunately not offer luggage transport!
Leave your luggage that you do not need for the bike trip in Tallinn.
We also offer transportation of your luggage directly to Tartu to the last hotel (price on request).
Rental bicycles
> Robust touring bikes (e.g. Merida), 24 gears with derailleur and freewheel or 7 gears with hub gears with coaster brake (please choose when booking), comfort saddle, different frame heights
> Electric bikes (e.g. Cube) 7-speed gears with freewheel; range max. 120 km (depending on the driving style)
All wheels are equipped with puncture-proof tires, mudguard, lock and repair kit. Please leave a deposit of € 100,- / bike or € 200,- / electric bike by credit card number.
Own bikes
It is possible to bring your own bikes, but at your own risk. For possible damages etc. on the own bike during the whole bike trip as well as during transport trips can not be liable.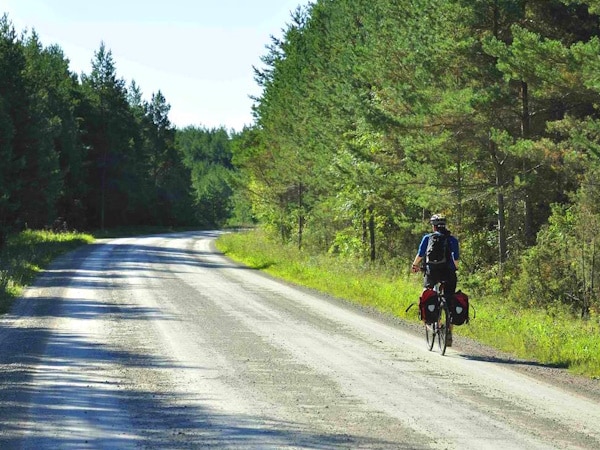 For your own safety, we recommend that you always wear a bicycle helmet on all bicycle tours.
Arrival by plane
There are regular flights to Tallinn Airport from Germany. For example, Air Baltic offers connections to and from Berlin, Frankfurt, Munich, Düsseldorf.
Arrival by car
If you want to arrive by car, you can use the following ferry crossings:
> from Kiel to Kleipeda (Lithuania) with DFDS
> from Lübeck to Helsinki (Finland) and on to Tallinn with Finnlines / Silja Lines.
Return transfer from Tartu to Tallinn
> You can get back to Tallinn from Tartu by bus (about € 10,- to € 12,-) or train (about € 12,50). Travel time: approx. 2 hours, 20 minutes (bus schedules see here, train schedules see here).
> If you wish, you can also book a private return transport through us (price on request).
> We recommend, especially in the high season, to buy the bus tickets in advance on the Internet.
Onward journey to Riga
From Tartu it is also possible to continue by bus to Riga (price: approx. € 20,- / person; travel time: approx. 4 hours). You can view timetables here .
We strongly recommend purchasing the bus ticket in advance on the Internet, especially during the peak season. We are happy to offer you additional nights in Riga.
Country information
Please note our information on entering Estonia under our country information. Please also see our notes on package tours.