Your trip
Estonia is the perfect country for cycling. Many beautiful and low-traffic roads are waiting for you: lonely beaches in a varied landscape, friendly people, a lot of original nature. All in all, you hardly ever drive longer distances.
This cycling tour of Estonia in the Baltic States will take you through the western part of the country from Tallinn via the islands of Saaremaa, Hiiumaa and Muhu, the largest in the country.
The route leads, as far as possible, on smaller roads. It will show you the best that Western Estonia has to offer – idyllic little villages with stone walls and thatched as well as romantic summer cottages in Haapsalu, Kuressaare and Pärnu, windmills in Angla, natural wonders in Kaali, friendly people and of course the Baltic Sea with its beaches, which are especially beautiful in the Baltic States.
Ferries will take you from one island to another. And finally, you can feel the unique island atmosphere – here the clocks seem to go a little slower, the islanders are never in a hurry.
Estonia offers plenty of space and air to breathe! Even in high summer you will always find enough space for yourself on the long sandy beaches.
Accommodation
You will stay in small country hotels, guest houses or even in old farms that have been converted into tourist farms. Everywhere you will enjoy friendly service and local cuisine. In Tallinn, stay within walking distance of the Old Town in a 3*** or 4**** hotel. All accommodations are very lovingly and individually furnished.
We will be happy to make you an offer for an extra night for each place of accommodation, both in Tallinn and for the entire bike tour.
If you wish, you can also interrupt daily stages with an overnight stay and thus shorten one or the other stage a little. Feel free to contact us!
Route
They mostly ride relatively flat, sometimes slightly hilly terrain. There are no major inclines to overcome. In 7 daily stages you will travel between 40 and about 80 km. Alternatively, we are happy to divide the route into shorter stages.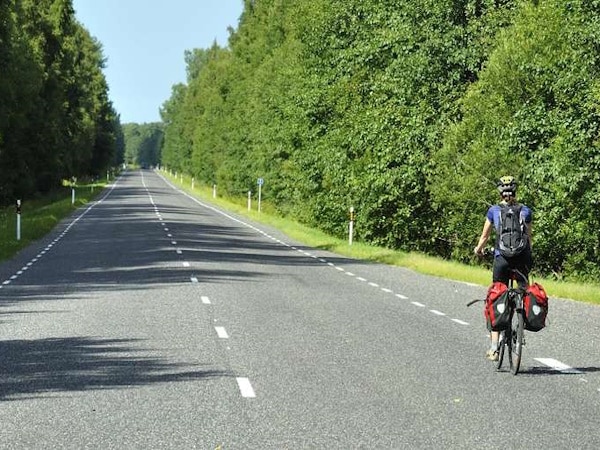 Please note: The trip is not suitable for persons with reduced mobility. Please contact us for detailed information if needed.
Rental bicycles
> Robust touring bikes (e.g. Merida), 24 gears with derailleur and freewheel or 7 gears with hub gears with coaster brake (please choose when booking), comfort saddle, different frame heights
> Electric bikes (e.g. Cube) 7-speed gears with freewheel; range max. 120 km (depending on the driving style)
All wheels are equipped with puncture-proof tires, mudguard, lock and repair kit. Please leave a deposit of € 100,- / bike or € 200,- / electric bike by credit card number.
Own bikes
It is possible to bring your own bikes, but at your own risk. For possible damages etc. on the own bike during the whole bike trip as well as during transport trips can not be liable.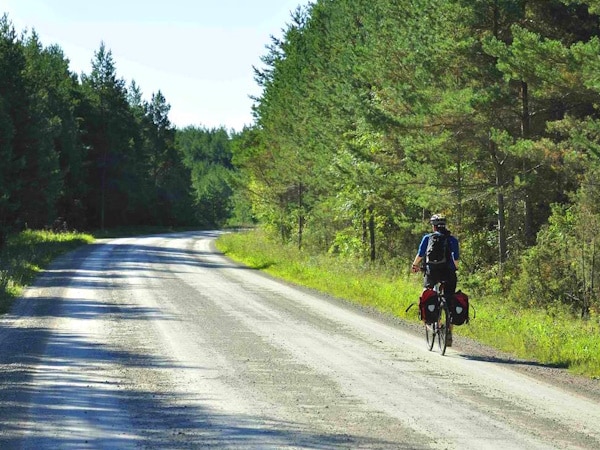 For your own safety, we recommend that you always wear a bicycle helmet on all bicycle tours.
Arrival by plane
There are regular flights to Tallinn Airport from Germany. For example, Air Baltic offers connections to and from Berlin, Frankfurt, Munich, Düsseldorf.
Arrival by car
If you want to arrive by car, you can use the following ferry crossings:
> from Kiel to Kleipeda (Lithuania) with DFDS
> from Lübeck to Helsinki (Finland) and on to Tallinn with Finnlines / Silja Lines.
Return transfer from Pärnu to Tallinn
From the destination Pärnu you can comfortably return to the starting point Tallinn with a regularly running public bus for about 15 € / person. You can see timetables and prices here (www.tpilet.ee/en) . The driving time is about 2 hours.
If you wish, you can also book a private return transport through us (price on request).
Please note: The buses do not take bicycles. If you wish to travel with your own bicycles, we are happy to provide a private return transfer from Pärnu to Tallinn.
We strongly recommend purchasing the bus ticket in advance on the Internet, especially during the peak season.
Onward journey to Riga
Alternatively, from Pärnu you can continue by bus to Riga. The price is about 20 € / person. The travel time is about 2.5 hours. You can see timetables and prices here (www.tpilet.ee/en) .
We strongly recommend purchasing the bus ticket in advance on the Internet, especially during the peak season. We are happy to offer you additional nights in Riga.
Country information
Please note our information on entering Estonia under our country information. Please also see our notes on package tours.