Somewhere here must have once been paradise!
Indeed, God has left His mark on this magnificent lake. A district of Constance boasts this beautiful name – . Paradise . Even though it was here that intolerance and religious madness raged cruelly during the great council.
Today, the lake shows diversity, magnificent expanse and flowery beauty.
---
---
Enjoy a few days on the saddle
For 40 years now – this year is the birthday anniversary – the Lake Constance Cycle Path connects the three countries Germany, Switzerland and Austria, history and present, recreation and exertion with a good 250 km of well developed and signposted paths along the shore and in the surrounding countryside.
There is hardly a region in Germany that can be so beautifully explored by bike as the lake between the foothills of the Alps, the Rhine kilometer zero near Constance and Europe's largest waterfall near Schaffhausen.
Circumnavigate the lake, enjoy individual stages on the ship, treat yourself to a little time in the picturesque port towns and many museums of nature, history, culture or technology. But above all, look forward to the supreme discipline of the region: a few swims in the crystal clear waters of the lake. There are beautiful bathing bays everywhere. Our tip: The – freely accessible – Hörnle outdoor pool near Constance – right next to the outdoor pool and the thermal baths.
We have put together a few nice tours for you. Whether family tour, bike tour with luggage transport, round trip around the lake, star tour or bike and ship. We have tips for sporty and leisurely bike trips. From our own experience and many travel reports we recommend the lake to you – or just on the saddle.
Oh, by the way:
You can also bike to the lake – or hike. Take a look at our tour Munich – Lake Constance or also Titisee – Lake Constance.
By the way, all our destinations are easily accessible by train. Leave the car at home. Get on vacation with you, rent one of our rental bikes and enjoy a great experience stress-free and ecologically tip-top clean.
Look forward to your tour. We take care of the luggage transport and logistics.
---
Now new: TWIN – Tour Constance
We are happy to introduce a new set of twins!
These two tours are alike to a T. They are accommodated in the same hotel. They spend the evenings and nights together. They go on vacation together. Only the requirements for fitness and daily kilometers differ from each other. And the beauty of it: You can change flexibly from day to day. Real TWIN just!
---
Our Lake Constance – classic:
---
Unsere Touren am Bodensee
---
Do you feel like descending once?
Then we can recommend you this very special hiking trip:
On six stages in eight days, this hike takes you from the breathtaking alpine panorama of the Hochfirst above Lake Titisee through the wildly romantic Wutach Gorge to the lovely Lake Constance.
---
And as always, the same applies here: On our individual bike tours, you ride entirely at your own pace and linger where you find it particularly beautiful. We will transport your luggage for you from accommodation to accommodation. You will enjoy the magnificent scenery, the cultural and historical diversity and the hospitality of the people of southern Baden, Switzerland and Austria.
With its relatively short daily stages, our short vacation on the Lake Constance Cycle Path is very well suited for beginners, pleasure cyclists and especially for families with children. With our sporty tours, however, also the ambitious kilometer cyclists get their money's worth.
On our individual bike tours you ride at your own pace and stay where you find it particularly beautiful. We will transport your luggage from accommodation to accommodation for you, so that you can explore and enjoy the Lake Constance Cycle Path in complete relaxation.
---
A few words about cycling on Lake Constance:
The Lake Constance Cycle Route is uniformly signposted in all regions and countries with its symbol and kilometer information. Only the colors of the signage are country-specific. In total, the core route covers about 250 km. It leads through Germany, Austria and Switzerland. The Lake Constance Cycle Path is one of the most popular cycle paths in Europe. Especially during the main travel period between Easter and October, you will therefore rarely be alone during the day. Please be considerate. Please wear a helmet and cycling gloves.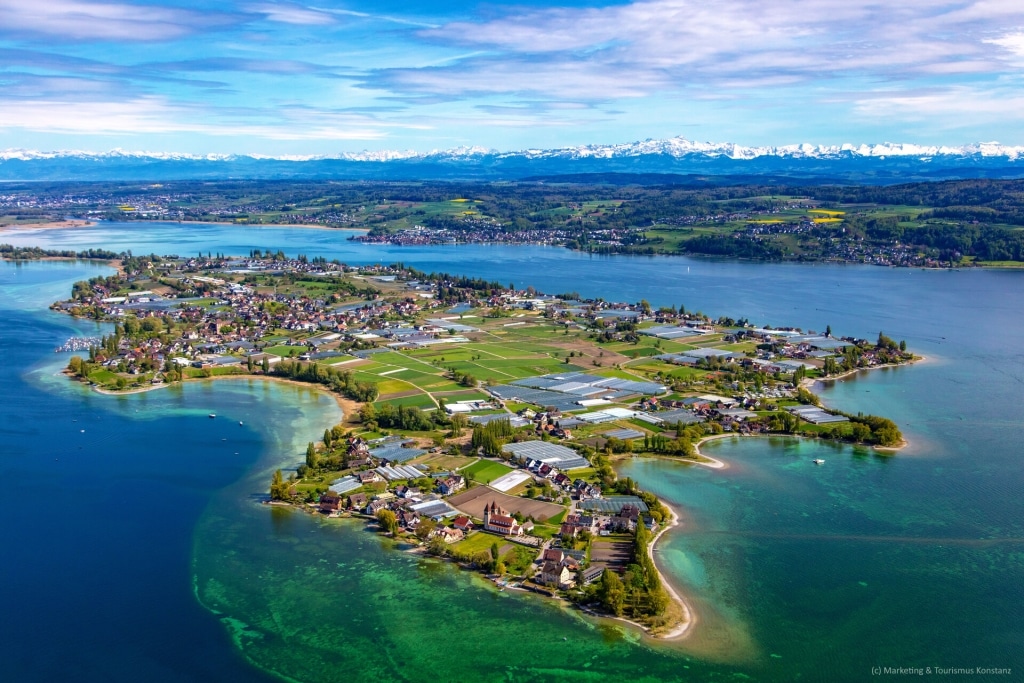 In general, Lake Constance is divided into the following three regions:
Der östliche Hauptarm des Sees nennt sich Obersee. Er liegt zwischen Konstanz (D) und Bregenz (A) mit dem Südufer auf schweizer Seite, dem Südosten in Österreich und dem deutschen Nordufer. Der Obersee ist gut und einfach zu radeln. Üblich ist die Tour im Uhrzeigersinn von Konstanz über Meersburg, Friedrichshafen, der Inselstadt Lindau, Bregenz (A), Romanshorn (CH) zurück nach Kreuzlingen (CH) und Konstanz. In dieser Richtung liegt der Radweg auf deutscher Seite auf der Seeseite der Straßen.

Der Obersee ist einfach zu umfahren. Er eignet sich hervorragend für Familientouren. Die meisten Strecken verlaufen flach mit einigen wenigen und kaum steileren Steigungen. Der Radweg ist nahezu ausnahmslos abseits der Straße auf eigener Wegführung ausgebaut, verläuft mitunter aber entlang der (Bundes-)Straßen. Insbesondere zur Haupt-Radsaison ist ehr sehr dicht mit Fahrrädern befahren. Bitte nehmen Sie Rücksicht.

Die Streckenführung folgt meist dem Ufer. Sie bietet immer wieder tolle Ausblicke auf den See und die Alpen. An vielen Stellen können Sie am Ufer oder in Strandbädern schwimmen. Im Bereich der Rheinmündung "hinter" Bregenz radeln Sie durch weitläufige Auen und Naturschutzgebiete mitunter in weiten Zacken abseits des Sees. Das schweizer Ufer führt Sie dann wieder zurück an den See. Hier sind einige Abschnitte den Straßen entlang zu fahren.

Sie können fast alle Strecken mit dem Schiff oder mit der Bahn abkürzen. Die Mitnahme von Fahrrädern in Bahn, Bus und Schiff ist zwar grundsätzlich – gegen Aufpreis – möglich. Aufgrund der Vielzahl an Gästen und Radfahrern jedoch mitunter beschränkt.

Lake Überlingen is considered to be the north-west arm between a line Konstanz Meersburg and Bodman Ludwigshafen. It is located entirely in Baden. Here, too, the bike path is mostly developed away from the roads. The route leads through beautiful vineyards, orchards and floodplains with great views and pretty harbor towns. A special pearl is certainly the flower island Mainau.

In contrast to the Obersee, you have to expect a bit more elevation gain, climbs and descents at the Überlinger See. In particular, the "Bodan Ridge" between Constance and Bodman is medium-hilly.

The Untersee or also the Rheinsee begins with Rhine kilometer zero in Konstanz under the old bridge. It includes the extensive nature reserve of the Konstanzer Ried, the fruit, vegetable, reed and UNESCO – church island Reichenau, the Radolfzeller Bucht and extends to the Rhine outflow at Stein am Rhein (CH).

The southern shore of Untersee in Switzerland is beautiful to ride, but has some steeper climbs and hilly stretches.
If you have any questions about the trips or would like a quote, just contact us directly. We will be very happy to advise you.
---
More cycling and hiking tours on the Rhine, Main and Neckar rivers
---